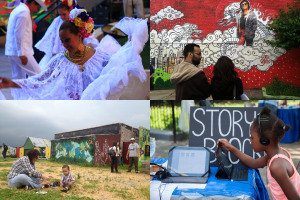 We'll be at:  THE POINT  (6 train to Hunts Point Ave, walk under the Bruckner, then turn right on Garrison Ave)
Starting at 11:00 am the mobile studio will be having an open house!  Come say hello and check out the studio….  or at 3pm come see:
Making Cultural Production Visible: Mobile Print Power and the ArtBuilt Mobile Studio
Artist Patrick Rowe, representing multi-generational printmaking collective Mobile Print Power (MPP), will present a workshop exploring MPP's work and the experience of using the ArtBuilt Mobile Studio as a platform for publicly-engaged art-making.
http://nocdny.org/2015/10/06/register-now-citywide-forum-friday-oct-23-nocdnyforum/